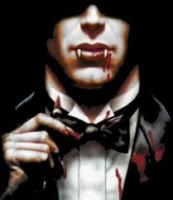 And, finally, it's time for part two of my
10 Vampire Dudes I Really Like
list. After I posted
10 Vampire Dudes I Really Like, Part 1
, some folks suggested some vampire dudes they felt I was leaving out unfairly. And some even popped into my head all on their own. But I was determined to stick with my original list. Because I know me, and any kind of indecisiveness could lead to hemming and hawing, and part two never getting posted.
So, without further ado, five more vampire dudes I really like.

6. Julian Luna (TV Show, Kindred: The Embraced)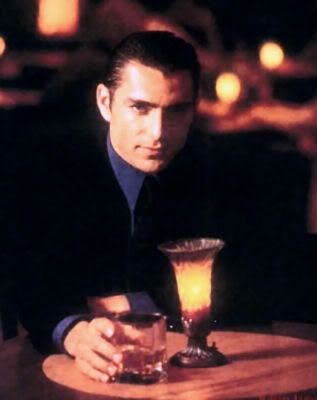 Kindred: The Embraced
is a series about an entire vampire sub-culture living amongst humans. If you're wondering about the title, being "embraced" meant being turned, and "kindred" is what the vamps call themselves. They find being called "vampires" offensive. The fact that they drink blood, have issues with sunlight, don't age, are super strong and fast, and so on and so forth is so not the point. If you don't want to piss one of them off, do not call them vampires.
Every major city has a Prince (who can be male or female) whose job is keeping the vampire population in line. And punishing those who break the rules. (Two rules being you can't embrace someone without their consent, and you have to get the Prince's permission first.) And Julian Luna is the Prince of San Fransisco.
I've always seen Julian as what Dracula might be like if he lived in modern times. And wasn't evil. Julian is handsome, suave, debonair, rich, charismatic, charming, and all that good stuff. Oh, and he lives in this awesome mansion with a beautiful view of the city. (He is a Prince after all. There has to be a mansion.) And he even has an angsty past. Before he became Prince of SF, he was an enforcer of sorts, whose job was "taking care of" naughty vamps. And, in that job, he had to do many not-nice things that still weigh on him sometimes.
There's a scene in the first episode where Julian goes to visit the grave of his wife, who died many decades before. (Part of the reason he decided to become a vamp in the first place.) You can tell that he still loves her, and his going to her grave to "talk to her" isn't a new thing. And something about that always makes the romantic in me go, "Awwww." He also attends the funeral of his elderly grandson, who he'd kept in touch with over the years. More, "Awwww."
7. Henry Fitzroy (TV Show, Blood Ties)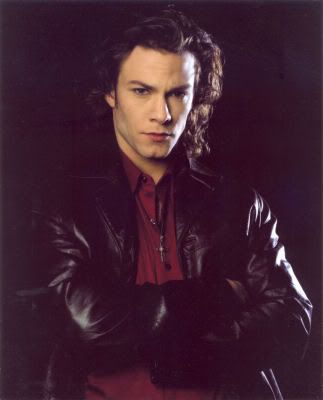 To me, Henry is the antidote to all the sad, broody, "I hate what I am" vampires you can't turn around without tripping over. Not that I don't like those types of vamps just fine. But, after all of that, a vamp like Henry is a breath of fresh air.
One of the rules seems to be that you can't be a "good vampire" unless you do the eternal angst thing. Well, Henry breaks that rule. Henry isn't evil, but he
loves
being a vampire. He loves being able to do things mere humans can't. He loves the fact that he's been around for 400+ years. He loves seducing some pretty young thing, taking her to his bed, and giving her the time of her life in exchange for a little blood. (Imagine.
Four hundred years
of experience. I bet his bed partners don't mind him being a little kinky and bitey.) And, finally, Henry loves golf.
Yeah, you heard me. Henry loves golf. Unfortunately, because of his sun issues, he can only swing the club at night. Thankfully, his superior eyesight makes that a bit easier.
What Henry hates is evil, and people who use magic for evil, and demons (who are evil). Basically, evil equals "It must be destroyed!" as far as Henry is concerned. He even wears a cross, to show where he stands on the whole subject of good versus evil. And, for some reason, I find a vamp wearing a cross kind of awesome.
One of my favorite things about Henry? He is a very successful comic book writer and illustrator. Oh, he'll take issue with that. "They're graphic novels!" he'll say, maybe with a little growl in his voice. And, in retaliation for the insult, he just might draw you into one of his "graphic novels," where you will be eaten by something big and nasty.
8. Mitchell (TV Show, Being Human)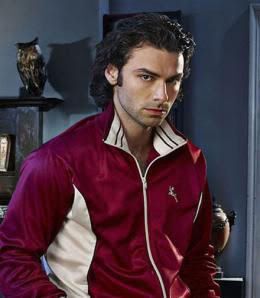 Mitchell is like that guy we all seem to know. He's a nice guy, if a bit of a slacker-type. He has a job, but only because he needs to pay the rent. It's not like his work is his passion or anything. If not for the "need to pay rent" thing, Mitchell would happily spend his days watching TV and hanging out with his friends. Yeah, the guy doesn't have much drive or ambition.
Mitchell dresses like someone who just doesn't care, and does most of his shopping at thrift stores. (Luckily for him, he can pull it off.) Some might say he seriously needs a haircut. And his bedroom is a mess most of the time. Basically, Mitchell isn't much different from a lot of the 20-somethings you see running around these days. So those who know him from work and such might be shocked to learn he's over a hundred years old, fought in World War One, and was turned while trying to save his men.
Mitchell's story is sort of typical as reformed vampire stories go. He was once one of the baddest of the bad. Then he had a change of heart and gave up on feeding from and killing humans. But what makes Mitchell unique is how modern he is. He has totally embraced his 20-something persona. There's nothing about him that would make you think he wasn't part of the generation he looks to be a part of. (Then again, Mitchell seems to be very good at adapting to whatever age he's living in, as we've seen through flashbacks.) And there's nothing "off" about him. Anyone who meets him sees just a guy. A hot guy, but a guy like any other.
What I love about Mitchell is that, on top of being a hot, badass vampire (other vamps are afraid of him, that's how scary dangerous he was back in the day), he's also a bit of a geek. He reads comic books, has classic movie posters on his bedroom walls, freaks out when his favorite TV show gets moved unexpectedly, and even had a fanboy moment over Laurel and Hardy. Seems he was a big fan back in the day.
And I'll be honest. When Mitchell's badass, scary side comes out, it can be kind of hot. As long as it's not
me
he's pissed off at, I'm good.
9. Stefan (TV Show, The Vampire Diaries)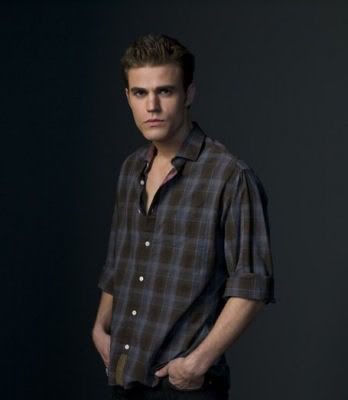 Remember Damon, #4 on the list. Well, Stefan is his younger, less-psychotic brother. And Stefan is deep, ya'll. I see him get compared to Angel a lot, and accused of being broody all of the time, but I don't see that at all. It's not like he sits alone in dark rooms counting his past sins. He's just quieter and more reserved than his big brother. But, compared to Damon, Lady Gaga would seem kind of shy and repressed.
Unlike Damon, Stefan gave up killing people and drinking human blood long ago. Instead, Stefan has spent the last however-many decades living life. He's gone to college a few times. And he's mentioned things like going to Bon Jovi concerts, anti-war rallies, and on a double date with "Hef and the twins."
The thing about Stefan is that you really buy that this is a guy who is 160+ years old. That he's been there, done that, and seen it all. He seems to have done a lot more growing and maturing than his older brother since they were turned. Yes, he can be kind of serious sometimes. But he also has a great sense of humor. (His adamant assertion that the supernatural creature that just hit town might be a Ninja Turtle.) And can also be very scary when he puts his mind to it. And, like Damon, he will put you down if you try to hurt his brother. That doesn't mean he always agrees with Damon's "lifestyle choices." (All the killing and stuff.) But, hey, that's still his brother you're messing with.
Stefan is the kind of guy that makes me go all schmoopy inside. He's just so romantic and sweet. The fact that he's also got a scary and dangerous side is just a bonus.
And I decided to include a pic of the Brothers Salvatore. (They have special magic rings that allow them to walk in the sun, by the way.) Because I sometimes find it hard not to think of them as a set...of hotness. :-)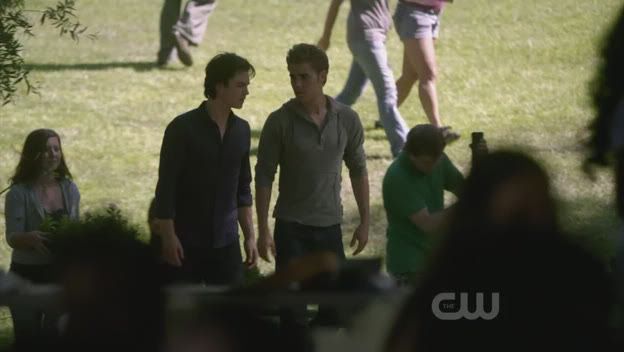 10. Angel (TV Shows, Angel and Buffy the Vampire Slayer)
As I said before, this is not a countdown type of list. But, if it was, Angel would be number one on it. Because I loved him in all of his various incarnations on both shows. I loved him as mysterious stalker guy. I loved him as the broody, romantic figure of early BtVS. I loved him as the evil Angelus. I loved him as a father. (Awwww.) I even loved him when he was all vengeance-seeking and treating his friends like crap. Yes, I wanted to smack him at the same time. But his "dark period" was very interesting. And, most importantly, he grew and changed as a result of all the screwing up he did at that time, which is really what matters, right?
I even loved Goofy Angel. Yes, I know some had a problem with him losing some of his coolness. But I found it interesting that, as Angel became more and more comfortable around humans, his inner dorkiness started to come out. It was like, he no longer felt like he had to be super cool vampire guy all of the time, and felt free to just be a guy. And a dork.
What I loved most about Angel was that, as scary as he was without a soul (as Angelus), he could be even scarier with one. Without a soul, he did evil for the sake of doing evil. With a soul, there was strong feeling behind him being pissed at you (you hurt his friends, or his kid, or something like that), so there were going to be very real, very strong emotions involved when he tortured you. Of course, to the person getting the ice pick through the eye, it probably wouldn't make a difference. (I imagine it would hurt the same amount either way.) But, to a viewer, it was intriguing to see the difference between Evil Angel, and Soul-Having-But-Still-Want-To-Hurt-You-L
ots Angel.
Of all the vampire shows I've watched over the years (and I've tried to watch most of them),
Angel
was the show I became the biggest fan of. (And most obsessed with.) And Angel became one of my favorite TV characters. So, if there was a number one spot on this list, he would have it.
And there you are. The list of
10 Vampire Dudes I Really Like
. And I know I've probably missed some of your favorite vampire dudes. (I know the
True Blood
guys are conspicuously absent but, much to even my surprise, I haven't gotten to see it yet.) But I think this list is a pretty good one. I hope you enjoyed. And, if I introduced you to some vampire dudes you didn't know about before, all the better. :-D
Back to
10 Vampire Dudes I Really Like, Part 1