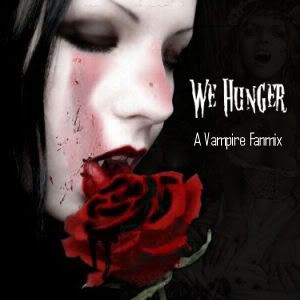 Recently (like yesterday), I posted a vampire fanmix called
Taste of Blood
. It focused on the angsty, even romantic aspects of being a vampire.
Well here's another vampire fanmix. But most of the songs on this one are more hard-driving, and focus on the "horror" side of things. (Although many have romantic, or at least sexual, undertones.) You might also notice many like to start out with spooky sound effects. :D
Most of these are songs I might not listen to a lot. But I like the lyrics, or the quirkiness of a verse or the chorus, or something. And, while putting this fanmix together, some of them have grown on me a little more than before.
Note: One of the songs isn't technically a vampire song. But I couldn't leave it out. And I think it fits nicely.
You can preview and download the songs
HERE
.
01 - Bloodletting -- Concrete Blonde
There's a rocking chair by the window down the hall
I hear something there in the shadow down the hall
O you were a vampire and now I am nothing at all
O you were a vampire and now I am nothing at all
02 - Lost In the Shadows -- Lou Gramm
Here comes the night
The bedroom in shadows
Candlelights
I don't know where it's coming from
But I keep moving on
Till the darkest thought makes me want to try these wings
03 - Bela Lugosi's Dead -- Nouvelle Vague
The bats have left the bell tower
The victims have been bled
Red velvet lines the black box
04 - You Can't Hide from the Beast Inside -- Autograph
There's an evil lurking in the night
And it gets inside of you.
There's a terror with a fatal bite;
Nothing's left when it gets through.

05 - Vampires Don't Exist -- Calabrese
Standing in the darkness
Smoking cigarettes
Looking through your window
Waiting and watching
When I woke up from the death
I was dug 6 feet under the earth
In a casket, screaming
06 - We Hunger -- Siouxsie and the Banshees
A ravenous greed
For a brood to feed
A lusting spawn
On a weakened fawn
07 - My Time (Has Come) -- The Twilight Singers
There's a girl lying at my door,
I would die just to taste her blood some more
I knew a girl dying at my door
For another hit, she gave me her soul
08 - Pretty People Never Lie, Vampires Really Never Die -- I Am Ghost
Do you know I'd never hurt you?
So taste it, taste it
So taste it and we will never be alone
09 - Vampires Will Never Hurt You -- My Chemical Romance
And if they get me and the sun goes down into the ground
And if they get me take this spike to my heart
10 - Night of the Vampire -- Grim Reaper
Look away from his hypnotic eyes,
Or he will put you in a spell
No one hears your last pathetic cries,
Now you live eternal hell
And, if you haven't already, don't forget to check out
Taste of Blood
, my other vampire fanmix.