Last year, to celebrate the Halloween season, I made two vampire fanmixes. (
Taste of Blood
and
We Hunger
.) This year, I present to you my list of
10 Vampire Dudes I Really Like
. There are other vampire dudes I really like, but I wanted to limit myself to ten, and not spend so much fussing over trying to make a "definitive" list that I ended up not posting anything at all. (Which has happened to me many times before.) Plus, I'm sure there are some lovable vampire dudes I didn't think of when I was making the list. But these ten will provide plenty of eye candy for the time being. Well, five for now. I'm splitting the list into two parts, because this thing is gonna be big. Well, big for me. :)
So without further ado, and in no particular order, here is part 1 of
10 Vampire Dudes I Really Like
.
1. Nick Knight (Television Show, Forever Knight)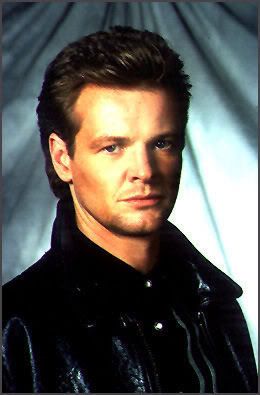 I don't know if Nick was the first animal blood-drinking, crime fighting vampire ever, but it wouldn't surprise me. In fact, it wouldn't surprise me if Nick was the template used when creating many of the non-evil and/or crime fighting vamps that came after him. Which is why he's first on the list.
Nick was an 800 year old vampire who was pretty evil for quite a bit of time. But he had a change of heart and, by the time the show starts, he is a police detective, fighting crime and trying to make up for his evil past. (Sound familiar?) Nick's greatest wish is to become human again…sorta kinda. Part of him wants that and part of him is a little ambivalent about it, largely because he still has strong ties with his vampire "family." (He spent hundreds of years with these people, so it's understandable he might have a hard time letting go.) But the part of him that does want it is being helped by Natalie Lambert, a human police coroner who is trying to use her scientific expertise to find a way to "re-humanize" Nick. And, of course, there's loads of unresolved sexual tension between the two. Well, there seems to be sexual tension between Nick and lots of people, especially his evil-ish sire and vampire sister/lover. (They aren't
related
related, but the same guy turned them both.) But that's another story.
How did a vampire become a police detective? Well, he tells people he has one of those diseases that pretty much amounts to being allergic to the sun, and his bosses put him on the night shift in deference to his supposed condition. Beyond that, just accept it and move on to enjoying the show.



2. Caleb (Movie, Near Dark)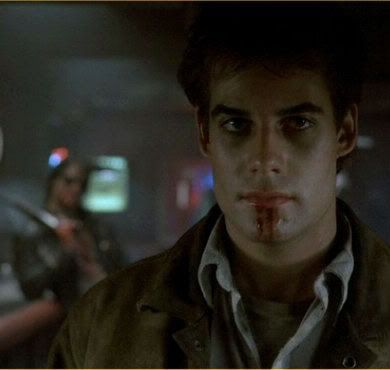 Played by Adrian Pasdar, Caleb was probably one of the first good (or, at least, not evil) vampires in any movie or TV show. Bill Paxton also plays a vamp in this flick. But he's more of a homicidal bad boy, Early!Spike/Damon type.
Caleb is an innocent, small town boy who meets and falls for a pretty young thing. What he doesn't know is that she is a vamp. And, since she's fallen for him too, she decides to turn him and take him home to join her vampire family.
The problem is that Caleb can't bring himself to feed on people. He just
can't
, which pisses his new vampire family off quite a bit. But none of their anger (or attempts to set him up with meals) do any good. Even when the bloodlust is getting to him, Caleb is more likely to tell his potential victims to run than chow down on them. In fact, if not for his sire feeding him her own blood every night, Caleb would probably starve. (And is it wrong that I found those feedings somewhat hot? A little bit? Oh, well.)
I don't know why, but I just love the way Caleb fights it. Even when the bloodlust comes over him, and his new vampire kinfolk are threatening to give him a whoopin' if he doesn't get his act together and start acting like a vampire is supposed to act, he can't go against his
true
nature. Because, while he might be a vampire now he is not, at his core, a killer. Something about that makes me love his character. Plus the hotness. :-D
3. Steven Grlscz (Movie, Wisdom of Crocodiles, aka Immortality)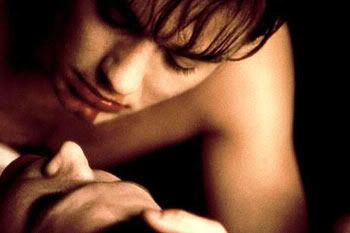 Jude Law plays Steven Grlscz, a vampire who doesn't have fangs, can walk in the sun, has no problem with crosses, etc. All of these things combined should have turned me off. But once I started watching this movie, I couldn't stop, and all because this character intrigued me. One of the things that make Steven so interesting is how, well, weird he is. No one who meets this guy would think he was normal. In fact, it's like he doesn't know
how
to act more normal. But, because he's hot, people choose to decide to be fascinated by his…eccentricities. And, since I'm pretty much in the same boat, I can't judge.
Also, despite being a tad weird, Steven is pretty good at being charming and seductive. He even manages to seduce (in a very manly way, of course) the male police detective who suspects him of murder (but not of being a vampire). Apparently, seductive and hot trumps weird. Or, actually, I think the weirdness adds to the hotness. ;)
There's
a scene early in the movie
that shows Steven…getting a bite. (Um, sorry about that.) And, from how he acts after the deed is done, you can see that he doesn't exactly
love
having to kill to survive. But getting blood from a blood bank just wouldn't work for him. And when you see what happens to him when he goes too long without feeding (he goes temporarily
blind
at one point) you can't help feeling for the guy. He's not really evil. He just has a Methosian survival instinct. Someone else (sorry I can't recall who) used that term to describe another character, and I immediately thought of Steven.
And, now, I'm trying to think of (or make up) a word that means "really weird and really hot at the same time." I'm sure there's one out there somewhere. :)

4. Damon (Television Show, The Vampire Diaries)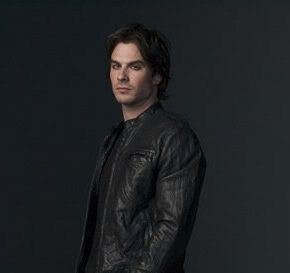 Aw, Damon. What can I say about this guy? He's hot. And homicidal. And very funny. He's got a nasty habit of killing anyone who threatens him, scares him (poor Lexi, we hardly knew thee), confuses him, or just annoys him a little bit. He will also rip off the head of anyone who even
thinks
of hurting his brother. One of his few redeeming qualities.
When Damon first came to Mystic Falls, he didn't expect to stay long, and went on several killing sprees, which made the authorities in town aware that, "Hey, there are vampires snacking on our citizens!" (Something the PTB haven't told the citizens, by the way, but they do have members of their police force reading, "How To Kill Vampires for Dummies.") Now that Damon's decided to stay, and the town's authroties are on the alert for any vampy activity, he's had to reign himself in and be more cautious and responsible and junk. Getting his blood from
blood banks
, of all things, which is
so
annoying. But he's trying, in his own Damon-ish way. That doesn't stop him from doing…unfortunate things when he gets upset, like snapping innocent bystanders' necks and such.
My relationship with Damon is a very unusual one. On the one hand, I do enjoy the character, largely because of the performance given by the actor that plays him. On the other hand, I kind of like seeing him get his ass kicked, watching one of his "master plans" fall apart around him, etc. And Bonnie using her witchy powers to set him on fire was one of my favorite moments of the show so far. Hey, I knew he wasn't really going to die! And it's not like he never did anything to deserve getting toasted just little bit.
But, again, still like him. I just think getting taken down a couple pegs every so often will help him grow as a person. :-D

5. Spike (Television Shows, Buffy the Vampire Slayer/Angel)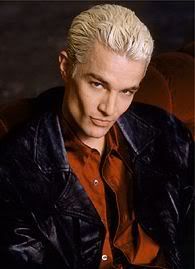 Like Damon, my relationship with Spike is a complicated one. I always enjoyed his character, but he wasn't really one of my favorites on BtVS back in the day. That didn't mean I didn't find him interesting. His devotion to Dru. His scary insightfulness. (That he usually used to cause others emotional trauma.) His way with words. (It turning out that he was a poet as a human sort of made sense when I thought about it.) His distinctive look. Heck, the way he moved was fascinating to me. And, of course, he was hot. But, when he left the show for a season, I wasn't exactly one of the fans praying (or writing letters demanding) that they'd bring him back. I would've been reasonably pleased if he returned, but I wasn't waiting for it with bated breath or anything.
Ironically, it wasn't until season 6 of BtVS (in my opinion, one of the worst for any of the characters, including Spike) that I truly became a Spike fan. Unhappy with the show, I turned to BtVS fic more than ever before. And that is where I had my eyes opened to the true awesomeness that was Spike. I also enjoyed him quite a bit when he moved over to Angel. So, now, he is one of my favorite characters in the "Jossverse," one of the few I still search out fic for.
One of the things I like about Spike is that I can "have him" in several different flavors. The badass, scary, unrepentantly evil Spike of early BtVS. The chipped, Spike of mid-BtVS, still trying to be evil even though he couldn't hurt humans anymore. The soul-having Spike of Angel, who retained the power to be a pain in the ass. I even like human, poetry-writing Spike, aka William.
So there you have it. The first five of the
10 Vampire Dudes I Really Like.
I'll be posting part two shortly. In the meantime, feel free to let me know what you think of the vampire dudes on the list so far. And Happy Halloween. :-)
On to
10 Vampire Dudes I Really Like, Part 2